We surveyed 200 sex workers in the states of Nevada, New York, and California
Here are the key takeaways.
What percentage of sex workers have experienced assault?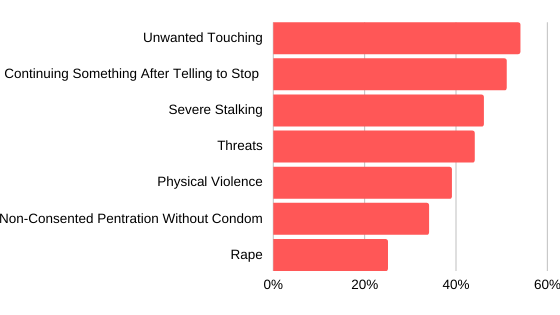 Breaking it down:
54% experienced unwanted touching
51% experienced someone continuing something after being told to stop
46% experienced severe stalking
44% experienced severe threats
39% experienced physical violence
34% experienced non-consented penetration without condom
23% never experienced assault
Assault Frequency
14% have experienced assault 10 times (or more)
39% of those who had been working 5+ years had experienced assault 5 or more times
60% of those who had been working under 1 year experience 1 or more instances of assault
Police + Sex Workers
52% would NOT call the police if they experienced assault (sexual or violent)
68% never reported an incident of assault (due to fear of being arrested or fear of the perpetrator)
Although over half of of respondents experienced some form of assault, only 10% had actually reported it to the police
Screening Clients
When it comes to sex work, it's important to screen clients for safety. We asked responders about the methods they use (or don't use) to screen clients.
22% don't screen clients at all
39% Google search their name
39% verify social media profiles (LinkedIn, Facebook, etc.)
30% check references from other reputable sex workers
10% check national blacklists
9% verify their place of employment