The Hitachi Magic Wand (Original Magic Wand) is marketed as a personal massager, but we all know what we really use it for. Okay, I massage my entire body with it, but that's definitely not why I bought it! To help make your decision, I'll be sharing my Hitachi magic wand review.
What is the Hitachi Magic Wand?
When this item was released initially released in 1968 (yes, that long ago and still going STRONG), it was originally manufactured for relieving tension and relaxing sore muscles, but is most famous for its use as a sex toy.
Sex educator Betty Dodson popularized its use as a vibrator and masturbation aid for women during the sex-positive movement in the late 1960s. It functions effectively as a clitoral vibrator and is able to bring many people to orgasm.
The wand is 12 inches (30 cm) long and weighs 1.2 pounds (540 g) with stimulation provided by its rubberized 2.5-inch (64 mm) head. This is important to note, as anything lighter is most likely a knock-off.
Well known as the Cadillac of vibrators, the Original Magic Wand (as it's now branded) is the world's most recognizable sex toy.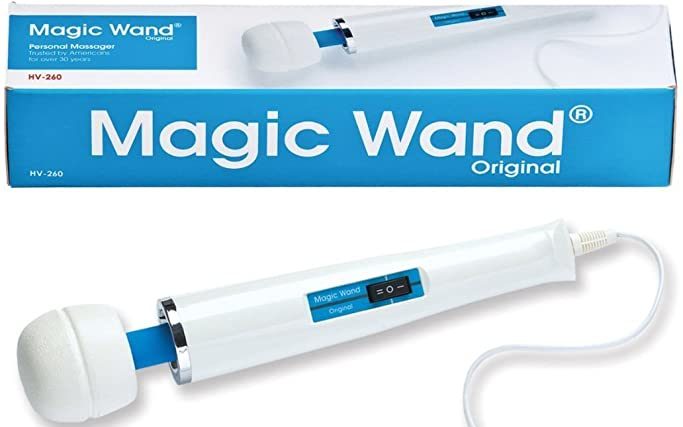 Is the Magic Wand Worth It?
I'll admit, I'm a skeptic when it comes to the boasts of sex toy companies. Of course, they all want to sell their product. What impressed me the most about the Original Magic Wand is, I don't think I've ever heard a bad Hitachi magic wand review!
What makes this toy so popular is the type of vibrations it gives. They're not buzzy at all, but rumbly, which for people like me, means an almost instant clitoral orgasm.
Though this toy isn't made for insertion, you can purchase helpful attachments that fit over the head to accommodate any insertion fantasy you may have. The covers also act as a barrier to the rubberized head (which is porous) to make clean up even easier.
Downsides to the Hitachi Magic Wand
No toy is perfect, thought the Original Magic Wand comes close. But it does have its downsides. The head is made of rubberized material, not body safe silicone. It can't be exposed to water at all, so cleaning is not the easiest. We recommend a soft, wrung out cloth to wipe it down after use. You can also spray a toy cleaner directly on the cloth and clean.
The Original Magic Wand is corded, which limits your movements a bit. The cord is six feet long, so you have a bit of wiggle room, but not much. There is a cordless version available now, which also features a silicone head, so it's close to perfect.
If you're looking for a discrete toy, this is not the one. It is LOUD. If you cover yourself with a blanket during use, it cuts down on the noise a bit, but not much. So if you need something your neighbors or housemates won't hear, this isn't the toy for you.
It's recommended for use up to 20 minutes, otherwise, you run the risk of it over-heating. From personal experience, I can tell you, it does begin to get warm around the 15-20 minute mark.
But for me, that's not a huge deal when I'm using it for clitoral stimulation. Why? Because never has it taken even 15 minutes for me to cum with this toy. Ever. If I get close to that mark, I've already had multiple orgasms.
The Bottom Line
Overall, this is a must have for any sex toy connoisseur. I highly recommend everyone have one in their bedside table.
Being honest, if for some reason this toy doesn't do it for you sexually, you'll have one helluva powerful personal massager on your hands. I really do use it both ways! My husband has enjoyed the vibrations before a back massage at least as many times as I've enjoyed the sexual pleasure it brings.
If you choose the Original Magic Wand, the price is around $60 USD, which isn't unreasonable. If you upgrade to the Magic Wand Plus (which has a silicone head and cord you can store), you're looking at around $80 USD. For the ultimate upgrade, there's the Magic Wand Rechargeable, pricing around $129 USD.
Being honest, the only good thing about the Rechargeable is that it's not corded (which is a pretty good perk). If this doesn't matter to you, the Magic Wand Plus will be your best option for body safe material with rumbles you'll feel for years.