The G-spot evokes confusion for a lot of people. Does it exist? How do you get to it? The Njoy Pure Wand is a beautiful, no-nonsense toy that will help you find and stimulate your G-spot with ease (and bonus, guys can get in on the fun as well, since it's perfectly curved to hit the P-spot, too). I'll be sharing an Njoy Pure Wand review with everything you'll need to know before buying.
Features
The Njoy Pure Wand is a curved dildo made of medical-grade stainless steel. It has a small ball on one end and a larger ball on the other.
The small end is designed for prostate stimulation, while the large end is for the G-spot, but you can put whatever end you'd like in whatever hole you want. You do you!
This bad boy is heavy, clocking in at 1.5 pounds. It measures about 8 inches, tip to tip. The Wand costs around $120.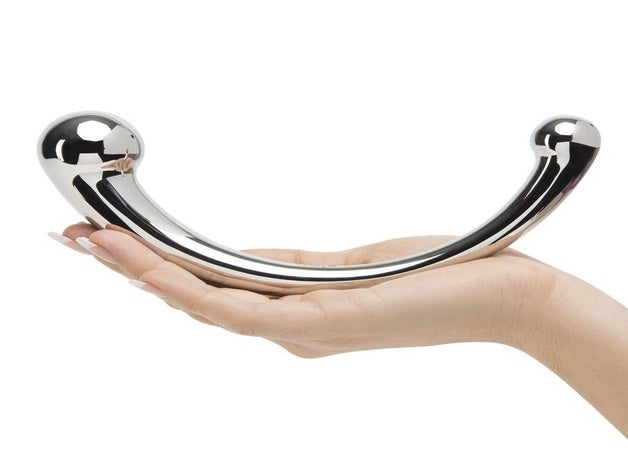 How to Use the Njoy Pure Wand
Insert the Wand into your vagina or rectum, with the curve facing up. A little bit of lube will make insertion smoother.
You may want to experiment with both the large and small ends to get a sense of what feels best in your body.
It's easiest to maneuver the toy when you're reclining, with your head and chest propped up on pillows. Holding on to the end of the Wand, you can drag it in and out of your body. You can also try rocking it from side to side, or simply using to apply pressure.
Try to focus on very small, subtle movements. You don't need to do much to create a lot of stimulation.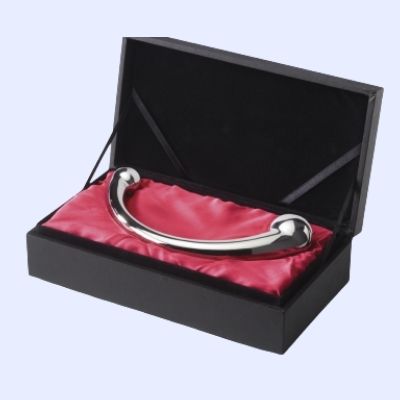 The Pros
It's incredibly well-designed. For G-spot stimulation, you'll find that the curve of the Wand perfectly places the ends right where they feel best.
The weight helps it deliver a ton of pressure. The G-spot needs intense stimulation, and boy does the Wand deliver. You can try adding clitoral stimulation with a vibrator or your fingers for an orgasm that may require peeling you off the ceiling.
I also like that the Wand doesn't have any vibration. It requires you to do all the work, and kinda forces you to slow down and take your time. Sometimes the efficiency of a standard vibrator can encourage lazy, rushed masturbation. This wand is such a nice change of pace, and you'll realize after the first use that the payoff is so worth it.
Another great feature of the Wand is that it's super easy to clean. A little soap and water, or a quick dip in boiling water are all you need. But take care not to drop your solid metal Wand while it's all sudsed up; you can break something easily. Not the toy, but something else.
The Cons
Since it weighs so much and you're doing all the work, using the Wand can get tiring.
Using the smaller end internally is especially difficult, as the Wand is weighted more in favor of inserting the large end. You can remedy this by taking little breaks to focus on clitoral stimulation. Or just power through it and think about how toned your arms are going to get.
And it's cold! The stainless steel holds temperature well, so you may want to warm the Wand up a bit in your hands, to avoid the shock of icy-cold metal on your sensitive bits.
This may actually be a bonus for lots of people, as you can use the Wand to create temperature sensation play. Try warming it in a bowl of hot water, or chilling it even further with ice.
Finally, it's tricky for a partner to use the Wand on you. The curve is beautifully designed for self-use, but not quite the right angle for a partner.
Who Should Try It Out?
Women wanting to explore their G-spot. This is a fantastic product for women who have never been able to find their G-spots before. I can't overstate its simplicity. Women who want stronger and longer orgasms.
The Wand delivers some truly outstanding G-spot stimulation that leads to powerful and extended orgasms. Seriously, you will want to give it a standing ovation after you use it.
Women who want to learn how to squirt. The Wand has a reputation for inducing squirting, even in women who have never squirted before. Squirting seems to be all the rage these days, and there's a good chance this baby can get you there.
Men who want to stimulate their prostate. Sometimes, this can be difficult due to angles, but with the Wand, you should be able to reach it with ease. And anyone who appreciates good design. The Wand is so gorgeous, it wouldn't look out of place as a paperweight in a fancy office.
The Bottom Line
To finish off this Njoy Pure Wand review, it's definitely a well-made toy that delivers on its promise. There are no batteries to charge, no difficult cleaning, it can be used anywhere, and it will last forever. You can't get much better than that!