With so many innovative sex toys being released, we may soon never need a partner again. The Lovense Lush 2 is one toy that has blown up in popularity. Having owned this toy for a few months, I'll be sharing an ultimate Lovense Lush 2 review of this small, adorable pink toy.
I didn't know what this was until I saw it being used by camgirls on cam shows. When in use, all you can see is an adorable little pink tail exiting the user's body. On Chaturbate, many of the performers can sync up the "tips" they receive with the power of their Lush 2. The more tips, the higher the vibration.
This vibrator is able to be controlled by another person remotely, while also being powerful enough to provide some intense sexual pleasure. No wonder it's so popular.
But, does it live up to this hype? I've done the research (and tested it out myself) and will break down everything you should know about the Lovense Lush 2 before indulging in it yourself.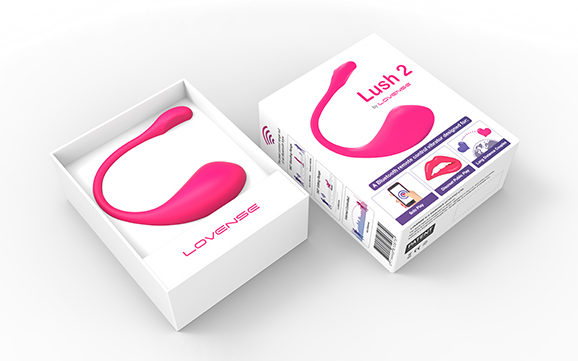 What Is the Lovense Lush 2?
Designed for vaginas, this little internal vibrator is designed for G-spot stimulation. It features buttons to turn it on and off at the bottom of the tail (the part that sticks out of the vagina when in use). This tail also holds the connectivity features.
The Lovense Lush 2 has a ton of great features:
Can connect to the internet (lets other people control the toy)
USB-rechargeable
Powerful motor
Waterproof

Made using materials

safe for the body
Full charge lasts 2.5 – 3 hours
One-year warranty when purchased directly from Lovense
Easy to use app with various modes and features
Although this toy is made for vaginas, Lovense has booty-specific teledildonic toys available, too, including the Hush and the Edge.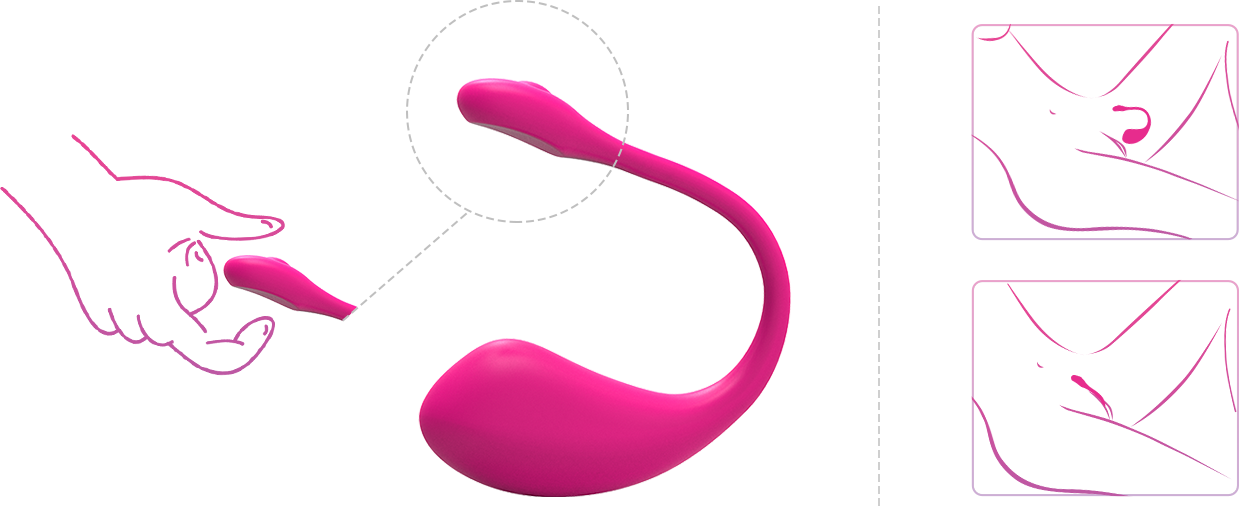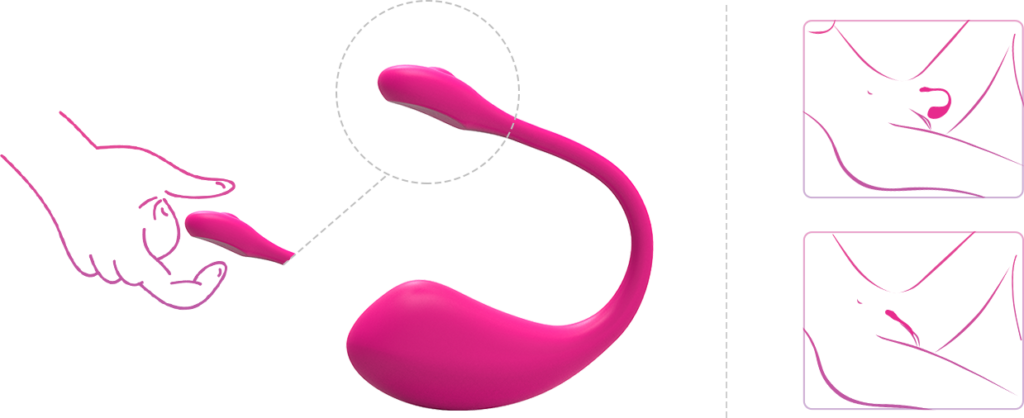 Controlling the Lush 2
The most unique aspect of the Lush 2 lie in the ability to connect your toy to internet and allow other people to control it.
It's easy to set up, you simply download the app, sign up, and pair the Lush 2 with you or your partner's phone simply by having the toy within range.
Note: If you want to connect the Lush 2 with a computer, you will need to buy an adapter. They can be purchased at Lovense for about $15.
Once paired, you can explore the app and dive into the fun. The app is extremely well-designed, with an easy-to-use interface and cohesive look.
There are so many functionalities to use within their app – here are a few of the top ones:
Close Range Mode
This mode has the following features:
Alarm (wake up your partner with a sexy jolt)

Remote (use your phone to control intensity of the vibrations)

Music (pair vibrations with the beat of any song)
My Patterns (create custom vibration patterns)
Sound (vibrations that are activated by sound)
Long Distance Mode
In this mode, you can add other users as well as request or block them. You can also chat with them in the app.
Additionally, you can create "control links" which allow another user to control your Lush 2 for various lengths of time (anywhere from 1 second to 1 hour). Patterns mode allows you to use vibration patterns that have been created by other users.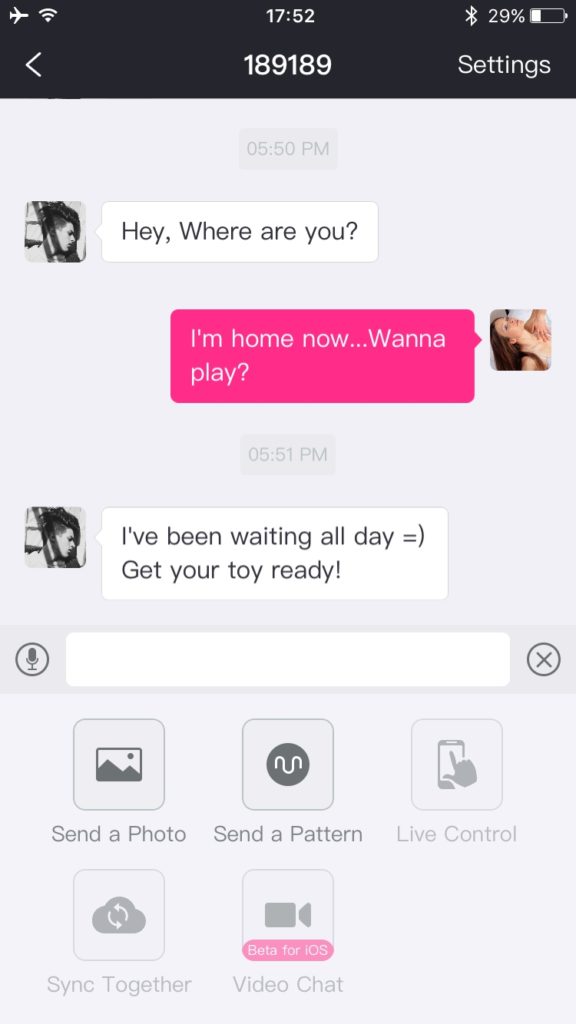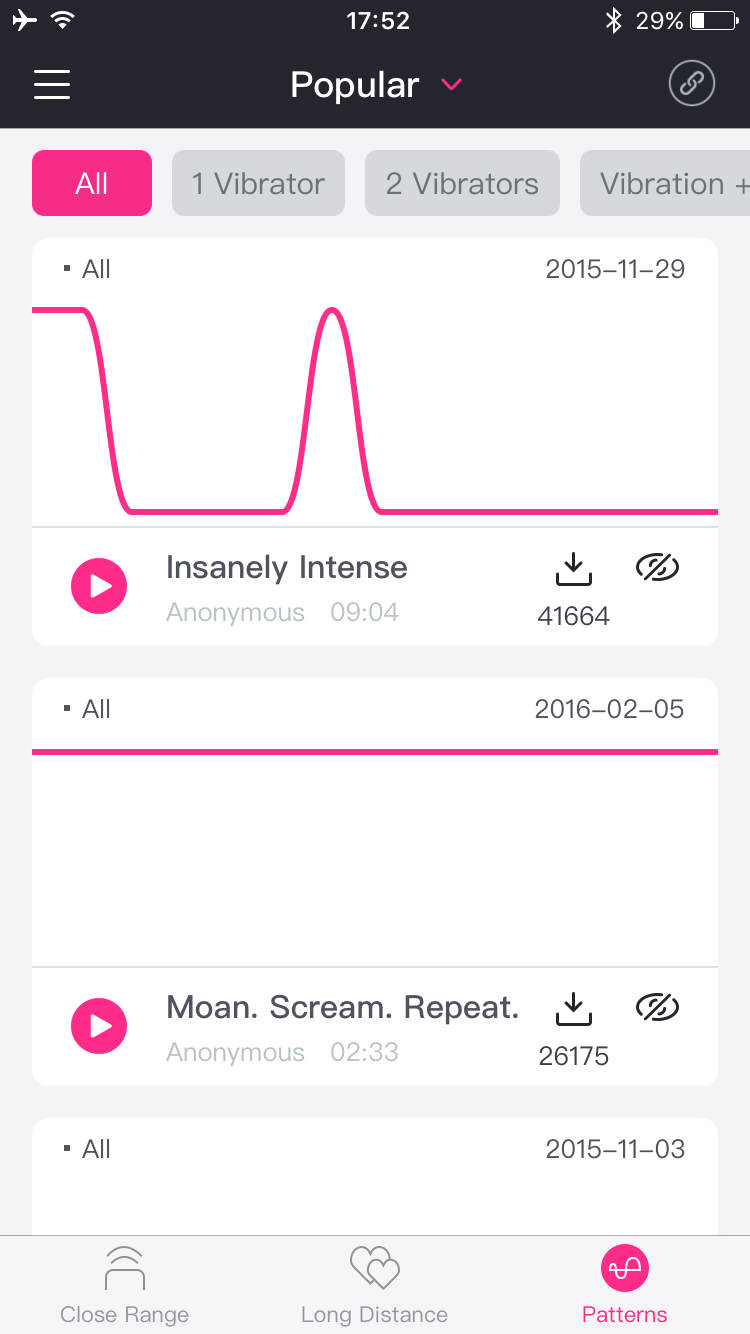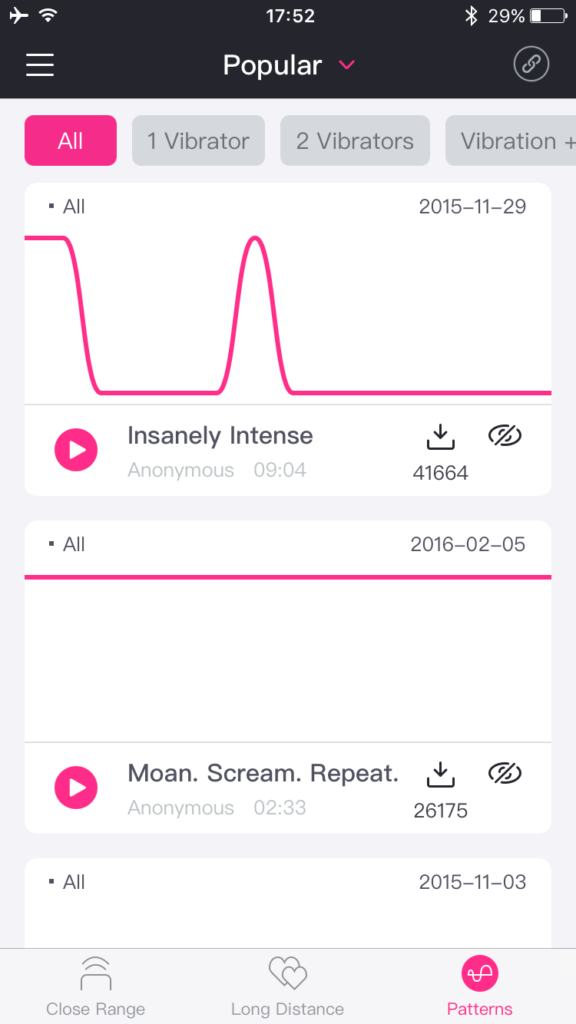 Who Will Enjoy the Lush 2?
Public play kinksters – The motor is powerful, yet very quiet, which is perfect for playing with (or without) a partner when in public. At less than 49dB, the motor is more quiet than a whisper. In my experience, it is extremely quiet and nobody will notice it. On a similar note, this toy is also great for anyone who wants a discreet and quiet sex toy.
Dom/sub arrangements – If you & your partner love Dom/sub play, the Lush 2 is a perfect toy. One partner can use their phone and control the toy from close or far away.
Anyone who craves long-distance functionality – Whether you're in a long-distance relationship or just want to give a stranger control of your pleasure, the Lush 2 is perfect. Long Distance mode allows you to give anyone control of your toy by sending a special link to them. There is only around a 1-second lag, which is pretty much real-time.
Cammers – There's a reason you see this toy all over cam chatrooms. The ability to send anyone a control link means you are able to charge your fans for the unique ability to control your toy for any period of time.
What's Bad About the Lush 2?
No sex toy is perfect, even this unique little device.
For one, the Long Distance mode is not as flexible as Close Range. In long-distance mode, you only get a slider for increasing or decreasing intensity. With the close range mode, you have the ability to loop patterns.
You may have already noticed but the toy lacks clitoral stimulation. However, this can be added with another toy, fingers, or oral.
Also, since the toy is controlled through Internet connectivity, there's potential for it to glitch and stop working during much-needed moments. However, you can always take over and finish the job. Hacking is always something to consider as well.
Some people might also consider the price a drawback (typically costs around $100 depending on sales), but it's not that bad considering the innovative features.
Overall, Is It Worth It?
Out of all the wearable vibrators you can choose from, the Lush 2 is definitely one of the top (perhaps even the top). With a generous 1-year warranty, surprisingly powerful vibrations, internet connectivity, and plenty of ways to control the device, you really can't go wrong.