Let's face it, sex can be a frustrating thing while in a long-distance relationship. Luckily, there are quite a few innovative toys coming out to help make it better – Vibease is one of them!
This brand helps enhance sex in long-distance relationships (or just enhance masturbation for those who want to have more fun getting off). Today, we'll be sharing our in-depth Vibease review to help you understand how it works and if it's worth it!
What is Vibease?
Vibease is small vibrator that can be controlled virtually by Bluetooth and can sync up to music, books, and any other vocal sounds. This toy also features voice-controlled artificial intelligence (aka you can tell it what to do and it will fulfill, within its abilities of course).
It's also designed to be used as a hands-free vibrator by simply sliding it into your panties! The toy is silicone-coated and body-safe. The silky smooth silicone feels amazing on your skin.
Their original Vibease model is most popular, but they also have a G-spot rabbit vibrator (plus a new lipstick vibrator coming soon).
Depending on the sale, the Vibease costs $90 – $120 and the G-spot vibrator costs $105 – $135. If you visit their store, you'll also find other toys and products available.
It takes 2 hours to charge the toy, but can be used for up to 3 hours on a full charge. The toy is also water-resistant (but not 100% waterproof).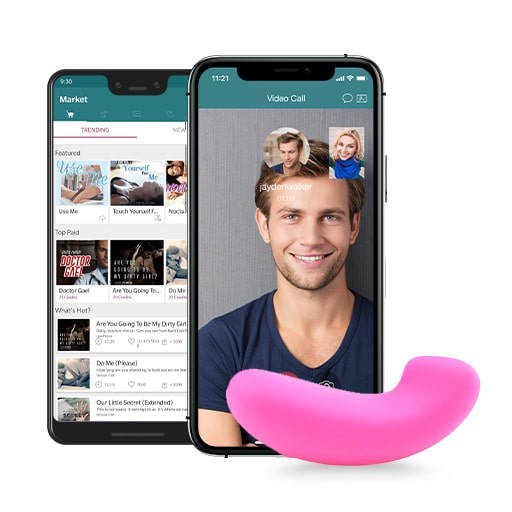 Using the Vibease
There are quite a few ways you can use this little toy.
For one, you can use it as a regular clit vibrator. This can be great for couples who aren't in long-distance relationships, just place it on your clit during sex and enjoy.
You can also place it in your panties for great clit stimulation – the way it's built, it will stay in place very well. It's soft and lightweight, meaning it doesn't feel clunky inside your underwear. It's honestly easy to forget you're wearing it.
My Vibease Review
Design
The first thing I noticed about this toy is how smooth it is. It feels great on the skin! It's also very light and portable.
The toy features a unique design with a tip that perfectly hits the clit, but a curved body that keeps the vibrator in place.
It also has two buttons – one that lets you turn it on or off, and another that allows you to switch to different vibration modes. That said, you can also use the buttons from the app if you're using it hands-free or just don't want to use the buttons on the device.
Functionality
With so many different features and functions, I was excited to try out this toy!
App – It was very easy to download the Vibease app, set up my profile, and connect the toy to bluetooth. It only took a few minutes.
They also have a marketplace for sexual stories submitted by other users of Vibease. You can sync these up to your vibrator so the speeds change while listening to these erotic stories (as the story gets steamier, the vibrator gets faster). Some of these stories are pretty dang good!
Some audiobooks are available for a small cost, but there are also a lot of free options. There isn't a huge variety, but I still managed to find a few I liked pretty quickly. You can view their entire collection.
You can also sync the Vibease with music (it vibrates with the beat). And of course, it can be controlled by recorded sounds (such as your favorite homemade video with your partner), voice, and your partner can control it from anywhere.
The vibration can also sync with your favorite song and vibrates with the music beats. Also, it can be controlled through recorded sounds, voice and your partner's touch from anywhere. What's more, you can even connect another Vibease and let him/her surprise you to a new level of orgasmic experience.


It was also easy to use the App with a partner and have them take control of the vibrator. You can also communicate with them through the app (you can chat, send photos, etc.)
Noise Levels – The Vibease is advertised as being quiet and discreet, which I definitely agree with. Even at full speed, it's pretty quiet. Someone wouldn't be able to hear it in another room – they might be able to hear it while standing right next to them (when wearing it in your panties), but they would have to be super close. View other quiet vibrators.
Power – I was surprised by the power hidden in this little toy. The maximum vibration level is pretty strong! That said, the vibrations are never overwhelming – some might need to press it against your clit when you're nearing your orgasm for best results.
Cleaning – Luckily, the Vibease is simple to clean since it is water-resistant. You can simply wash with warm, soapy water before and after every use.
However, don't submerge it completely under water since it's not completely waterproof. Dry after every clean – there should be no moisture when you store it away.
Also, since this toy is made of silicone, you should avoid using silicone based lube with it.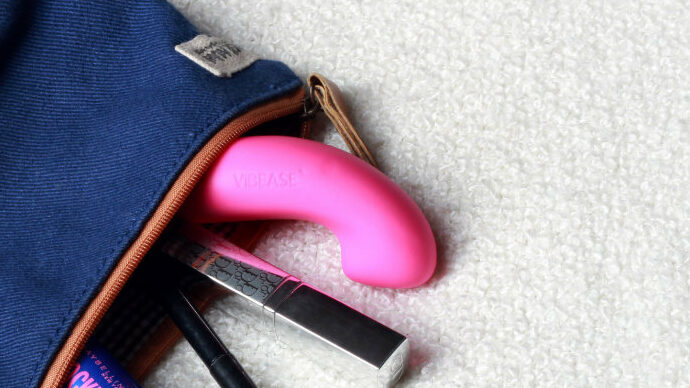 The Bottom Line
To sum up my Vibease review, I definitely think this toy is worth investing in. It's amazing for long-distance relationships, but can also be fun for people who aren't in long-distance relationships (or who aren't in relationships at all). The app is easy to use and I've never had any issues with connectivity. The toy is also very powerful and quiet!
There are truly so many scenarios that can happen with this toy. Whether you want to wear it to the grocery store or play with your partner who's 1,000 miles away, Vibease has you covered!