Vibease was truly created for long distance couples. Lack of physical sex in a long-distance relationship is a frustrating thing for a lot of women. You might get to talk to your man over the Internet but you need physical intimacy too. Sexy recordings, videos, sexting, everything can become boring after some time. Teledildonics or long-distance toys such as Vibease are invented to make sex lives exciting for couples who miss the physical intimacy.
The co-founder of Vibease, Dema Tio, created the brand due to his own long-distance experience – he really focuses on women's orgasmic experience. As he said:
". . . if you're a guy that really pay attention to female orgasm you will stand out among other guys . . . More than half of the women out there don't attain orgasm during sex . . . I believe the world will be a better place when women can have orgasm as much as men." — Dema Tio
What is Vibease?
Vibease is a Bluetooth controlled cute-looking bullet vibrator that you can easily carry in your purse. The vibrations can sync with music beats, any vocal sounds, and thousands of fantasy books. Most uniquely, this vibe can play a role as an AI lover. It responds to your needs by vocal cues.
It takes 2 hours to recharge the vibrator completely, it is water-resistant but you should avoid submerging it into the water.
Their original Vibease model is most popular, but they also have a G-spot rabbit vibrator and their Jewel collection (plus a new lipstick vibrator coming soon).
Depending on the sale, the Vibease costs $90 – $120, the G-spot vibrator costs $105 – $135, and the Jewel collection costs $50 – $70 per toy. If you visit their store, you'll also find other toys and products available.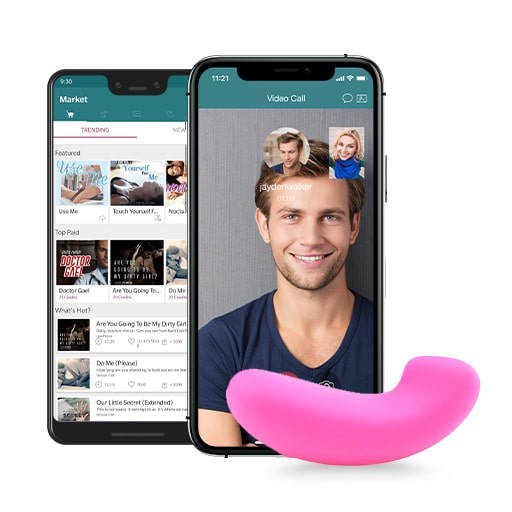 Vibease Review: Key Features
The Vibease is silicone coated which means that it is safe for your skin and there is no risk of rashes or irritation.
Besides, the surface is really smooth. I'm quite picky on the surface touch of my sex toy and this one definitely reaches my standard. This cute bullet vibrator is very light and portable. It features a pointed tip to enable stronger vibrations when stimulating the clitoris.
Vibrate with Erotic Stories
Vibease offers a marketplace for the fantasy stories submitted by Vibease users. You can listen to erotic stories while enjoying your moments of pleasure. The sex toy syncs with the audio and the vibration syncs along with the storyline.
You can view the downloaded audiobooks on the app. Some are available for a nominal cost, but there seem to be a lot that are free. The variety isn't the best, but you should be able to find something that appeals.
The Vibease Chat App
You can download the Vibease chat app on your Android or iPhone. After setting up your profile, you can add all the details including your photo to let your partner enjoy. The instructions are pretty simple to follow. All you need to do is turn on the Bluetooth and set the pulsation.
The chat app allows your partner to take control of the Vibease app. You can share personal stories, send photos and chat via text as well.


Vibrate with Music Beats and Many Others
The vibration can also sync with your favorite song and vibrates with the music beats. Also, it can be controlled through recorded sounds, voice and your partner's touch from anywhere. What's more, you can even connect another Vibease and let him/her surprise you to a new level of orgasmic experience.
Silent
Vibease operates quietly which is very important for a wearable vibrator. When standing directly next to someone, they may be able to hear it, but they'd have to be really close!
How Does it Work?
The toy has two buttons, the first one lets you turn it on and off. The second button lets you switch between different vibration modes. You won't need to control the vibrator by pressing the buttons on the vibrator as it is wearable, it's easily controlled from within the app.
Cleaning and Care
Vibease is easy to clean and maintain as it is water-resistant. You can clean the toy with warm, soapy water before and after every use. Make sure not to submerge the toy completely under water because it's not 100% waterproof. Also, dry thoroughly after each clean. Vibease should NOT have any moisture as you store it in the carry case.
Since this toy is made of silicone, you should avoid using silicone based lube with it.
Using the Vibease
Vibease feels pretty comfortable inside panties and gives good clitoral stimulation as well. The material is soft to touch and lightweight, so it's easy to forget you're wearing it. You may find you need to press the toy against your clitoris when you're about to orgasm for better results.
The vibrations are not too overwhelming and they're just the right intensity.
Although it's wearable, you can also use it as a standard clitoral stimulator. This toy also spices up bedroom fun for couples not in long-distance relationships. Just place the toy on your clit while having penetrative sex and ride the wave of pleasure.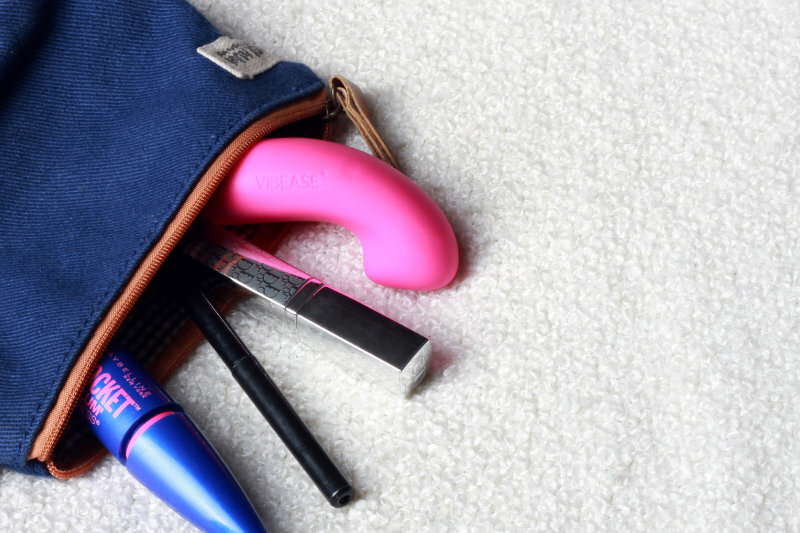 The Bottom Line
Being in a long-distance relationship can be a struggle, but with toys on the market like the Vibease and others, you can engage in intimate fun with one another and keep your sex life alive.