The classic Satisfyer Pro 2 debuted the brand's proprietary Air-Pulse Technology. What's that? It's a revolutionary, touch-free stimulation system which works by surrounding the clitoral area within a silicone tip and gently adding pressure waves. After hearing about this toy nonstop, I had to try it out (and share a Satisfyer Pro 2 review, of course).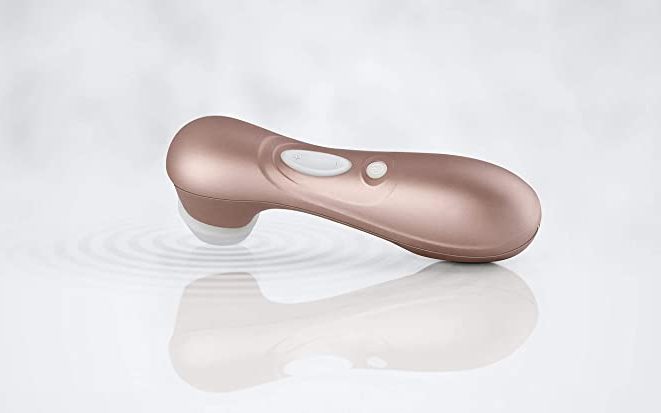 What is the Satisfyer Pro 2?
The Satisfyer Pro 2 is a pressure wave vibrator equipped with the innovative Satisfyer Airpulse technology, titillating your clit with waves of pressure (pressure levels can be controlled by you).
This bestseller will give you such explosive orgasms you won't be able to get enough of it. It's never been so easy to keep your sexual wellness in balance.
Satisfyer also sells different heads for the Pro 2, making it easy to get the right shape and size for your body.
It's also cheaper than similar models (cough cough Womanizer) while still working amazingly.
While this model doesn't come with vibration, the Pro 2+ adds that technology to take your self care to another level. However, it's over double the price and many people state the vibration isn't needed to have earth-shaking orgasms.
The next generation of the Satisfyer Pro 2 has an optimized button design that lets you click through 11 exciting levels of pressure waves. It's also waterproof and can be used discreetly in the bathtub or between the sheets thanks to its whisper-quiet motor.
A handy USB charger easily charges the battery, keeping your Satisfyer Pro 2 ready for the next session. For an even more breathtaking experience, you can use water-based lubricant. You'll find you get better suction, which is never a bad thing.
The soft head made of hygienic silicone is larger and wider, so it envelops your clitoris even better, giving you unique sensations. It's also easy to clean with soap and water or a sterile cleaner designed for sexual wellness devices.
Something I've never seen before is their amazing warranty. Satisfyer guarantees this product for 15 years! And if that's not enough reason to try this toy, right now, they're offering 25 percent off on their website.
Pros
Stimulates the clitoris using intense pressure waves without direct contact
Made from super-soft, skin-friendly, medical-grade silicone that's smooth to the touch and extremely hygienic
Thanks to its waterproof (IPX7) finish, this toy can be used safely in water and is easy to clean
11 pressure wave intensities
Includes USB magnetic charging cable
Great quality for the price
Provides powerful orgasms without desensitizing the clit

Cons
It gets me off too fast.
Just kidding. Overall, any cons to this toy are strictly personal.
In my case, I love this toy and have no cons. Some people have stated they thought the pressure was too much or not enough, which doesn't say anything about the toy itself. All our bodies are different, which is why Satisfyer offers different heads to attempt to accommodate our individual needs.
If you're used to buying cheap sex toys, the price may be stunning to you, but trust me, it's worth it.
With such an extensive warranty and highly positive reviews, plus the 25 percent discount currently available, spending $30 – $60 (depending on any current sales) doesn't seem too risky.
How to Use the Satisfyer Pro 2
Is Satisfyer Pro 2 the Best?
While the Pro 2 is the brand's most popular model, there are a few other options to choose from. For example, the Satisfyer G-Spot Rabbit Vibrator incorporates their suction technology with vibrating internal stimulation.
I've tried most of their models and the G-Spot Rabbit Vibrator is my favorite, with the Satisfyer Pro 2 coming in a close second. However, it's significantly more expensive, so I would start out with the Pro 2 to ensure you like the stimulation.


The Bottom Line
To sum up my Satisfyer Pro 2 review, no sex toy is perfect for everyone. But, the Satisfyer Pro 2 seems to come pretty close! With their patented technology coupled with an amazing warranty, purchasing one seem like a no brainer. Plus, the base model is pretty affordable (around $30) if you've never tried this type of suction vibrator.