Starlet 2 is a clitoral stimulator that can offer unique and orgasmic experiences through contactless air suction. As an upgraded version from the original Starlet, this model embraced some big improvements including adding waterproof function, enhanced button-control and more. Today's Womanizer Starlet review will share features of the toy, my experience with it, and if it's worth it overall!
Starlet 2 is an entry-level suction toy in the Womanizer family. It is very light, simple and straightforward. If you are looking for more sophisticated functions, I recommend trying Womanizer Duo or Womanizer Classic instead. But if you're on a budget or new to suction toys, you can't beat what the Starlet 2 has to offer.
Starlet 2 is an ideal toy for those of you who want a simple yet high-quality, affordable yet effective clitoral stimulator.
Womanizer Starlet 2: Features
Lively Color Options
The Womanizer Starlet 2 comes in three bold colors: Sapphire Blue, Coral, and Cherry Red.
All three colors are quite lively and adorable. Being honest, I'm thrilled there are options beyond the typical pink and purple.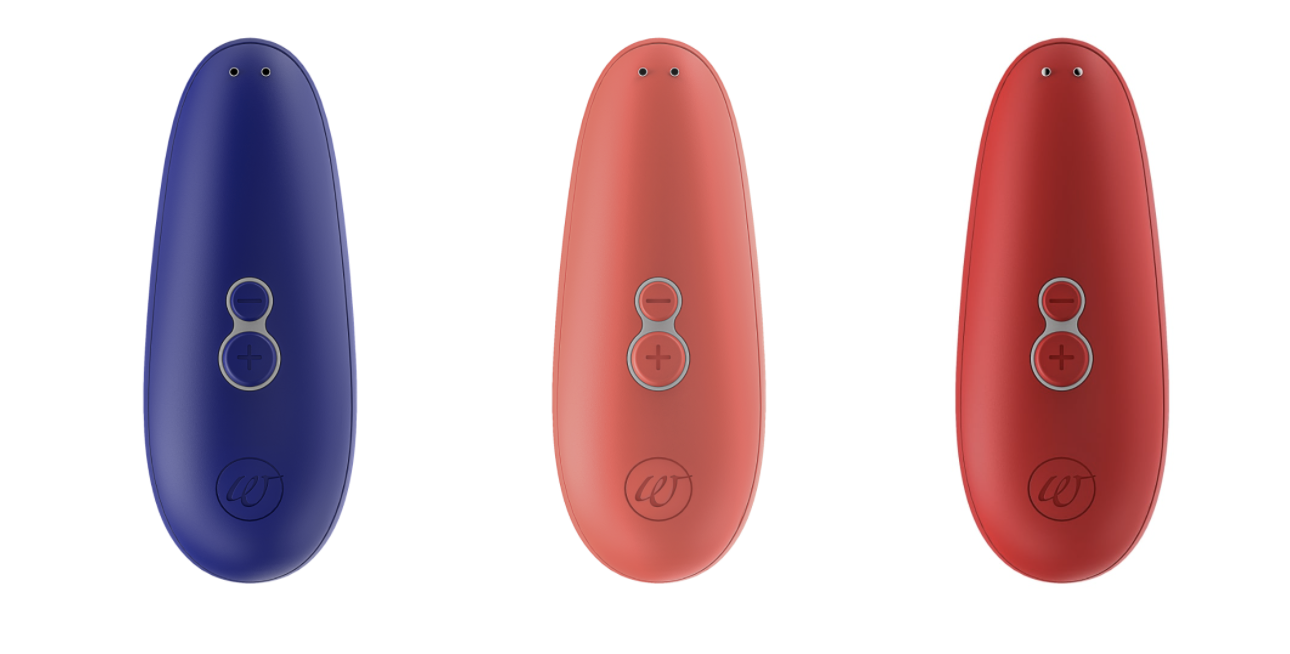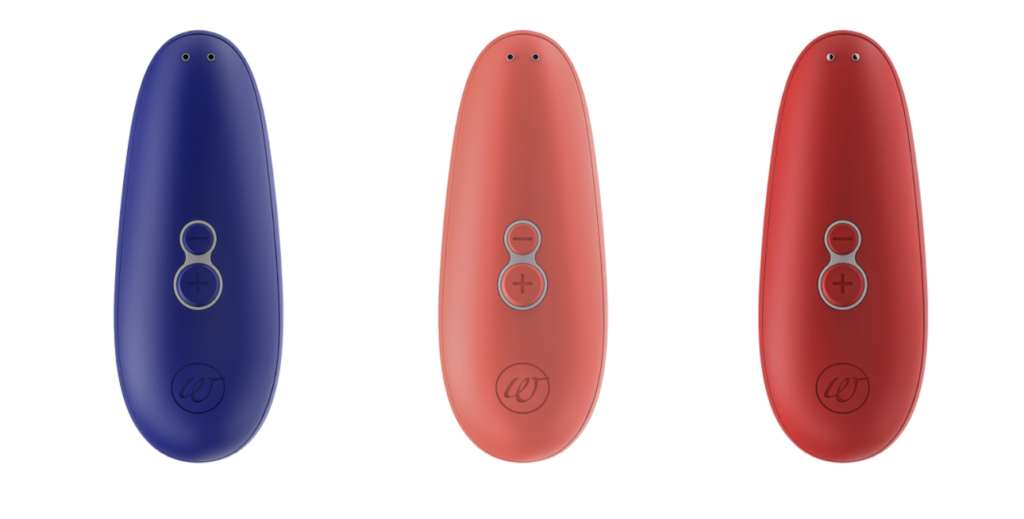 Safe Material
The body of the Starlet 2 is made of ABS plastic, which offers a smooth sensation for your hand to hold. The suction head is made of hypoallergenic medical-grade silicone, which enables a soft and gentle wrap for your clitoris.
Light-Weight
Starlet 2 is a rather light toy. It only weighs 70 g (0.15 lb), which is even a bit lighter than the Womanizer Liberty (90g/0.2lb) – a travel-friendly model. Therefore, the Starlet 2 became my new travel pal to go out with.
Small + Portable
As a palm-size toy that measures 104mm x 55mm x 48mm (4″ x 2.2″ x 1.9″), you can easily fit Starlet 2 in your makeup bag. The only thing you need to pay attention to is that there's no travel lock equipped for this toy, so be careful not to accidentally turn it on.
100% Waterproof
This is one of the big improvements Starlet 2 embraces compared to the original model. Now it is completely waterproof!
Despite the size of the toy, the motor of this toy is rather strong, which leads to divine and intense air suction to your clitoris. Worry that the sensation is too strong? This does happen, but don't worry about that!
If you prefer less intensity, there are 4 levels to choose from.
Quick Charge & Quick Use
This is a super handy toy when it comes to rechargeability. A full charging process only takes about 30 minutes, then you will be able to play with the toy for 30 minutes. Since it's a suction toy, it will get you off a lot faster than
Noise Levels
Starlet 2 is a rather quiet clit stimulator. Even at the highest speed, it doesn't exceed 55 dB, which is the noise level of a quiet living room. And the toy is even quieter when applied to the clit.
Price
At $79 (or cheaper during sales), the Starlet 2 is the most affordable Womanizer model. You also receive a 2-year warranty with any purchase, so you can be confident in your decision to invest in a toy from them.
The first generation Starlet costs $69 (often on sale for $49), but I prefer the second model.
How to Use
Starlet 2 is very intuitive and straightforward to use. I am sure you would figure out how to use this toy within seconds.
Using a bit of lube to the silicone tip of the Starlet and some to your clit helps the toy 'wave' more smoothly. Then just start the toy!
There are two buttons, a plus and minus. To activate, press the plus button for 2 seconds. Then apply to your clit and enjoy the waves of pleasure. In order to switch off the toy, press the minus button for 2 seconds. It does auto shut off after 10 minutes.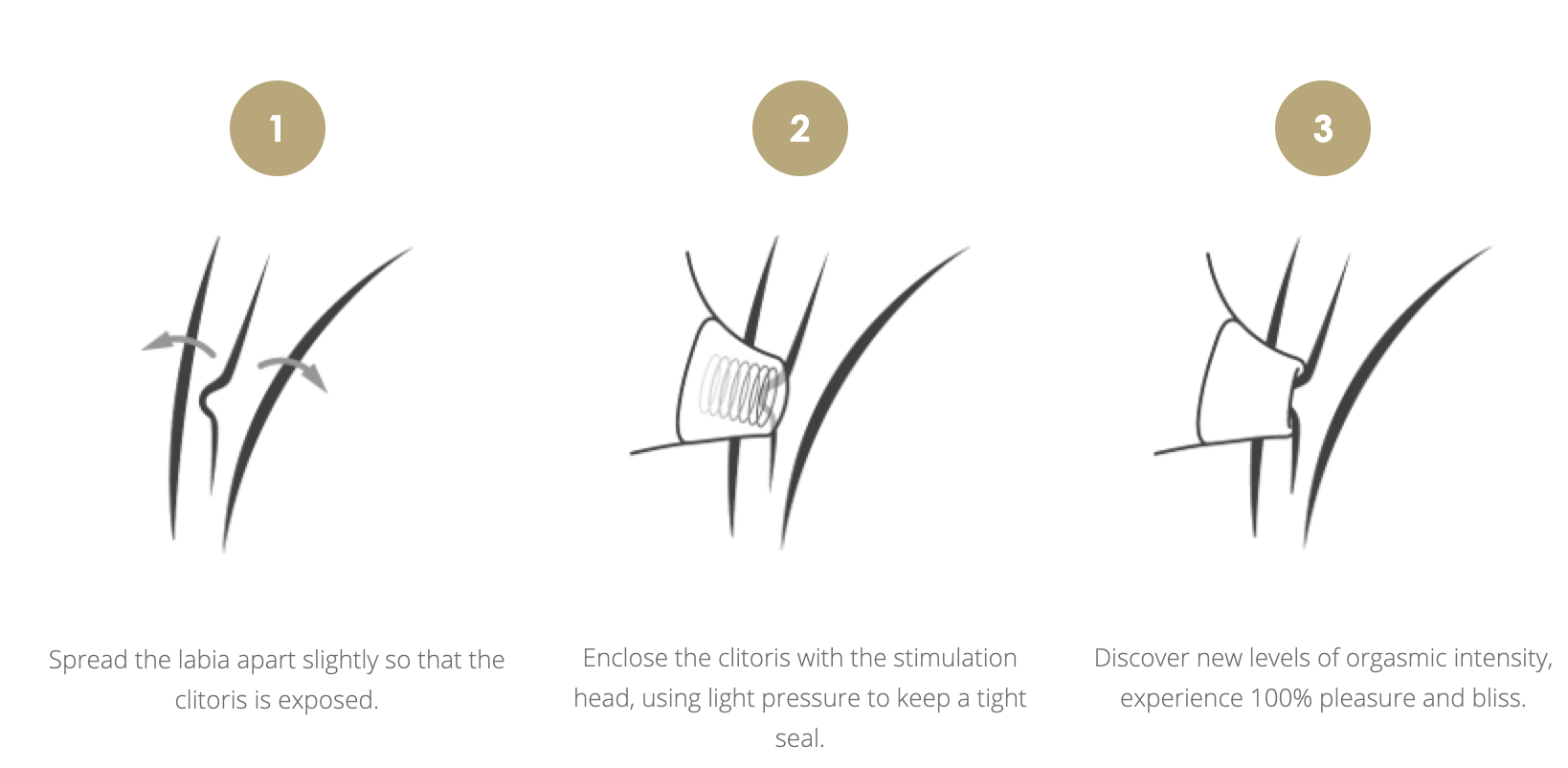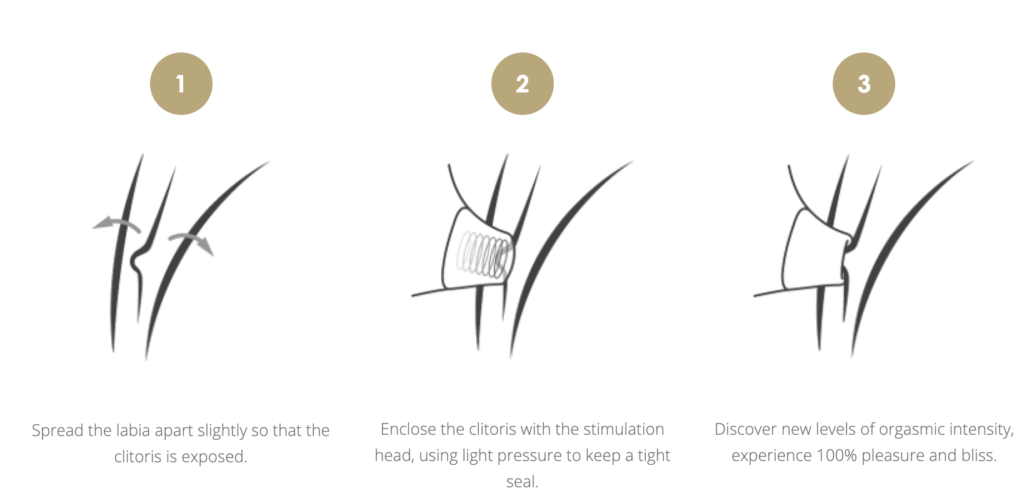 Charging
Starlet 2 comes with a magnetic charging cable. It promotes a quick charge and quick play concept. It only takes around 30 minutes to fully charge your device and the playtime lasts about 30 minutes as well.
This might not seem long for a luxury toy, but trust me, you'll only last a few minutes.
Starlet vs. Starlet 2
As of now, you're still able to purchase the original Starlet model, so I figured I'd share the differences between the two in case you're comparing them.
Starlet
Starlet 2
– Costs $69
– Pink, purple, or white
– Not waterproof
– Control using 1 button
– Looks cheap
– Louder than Starlet 2
– Costs $79
– Dark blue, peach, or red
– 100% waterproof
– Control using 2 buttons
– Looks sleeker
– Quieter than Starlet
Since the Starlet 2 only costs $10 more and has better features, I'd recommend going with this model. It's waterproof, more quiet, sleeker, offers two control buttons, and has nicer colors available. Definitely worth the extra $10!
My Womanizer Starlet 2 Review
I have to say Starlet 2 stays outstanding on the design and sensation, but there are a few things that are worth concern with this model. Here are my experiences and my opinions.
The charging process was quite smooth and quick, which I really like. But you only get 30 minutes of play after each charge. This isn't too much a problem for me as I barely need minutes to "finish" with this toy, but some may want to take it into consideration.
There are also no pattern options with Starlet 2. This doesn't bother me much because I prefer continuous stimulation anyway. However, unlike other Womanizer toys, this toy doesn't come with an optional larger head.
This is unfriendly to women who have relatively larger clit because the current size may not wrap your clit well, or at least it may not wrap your clit in a comfortable way. However, the Womanizer store does sell heads for an extra cost if the original doesn't fit your clit.
There were some occasions where I did not use lube with this toy and it worked perfectly fine. So if you don't have lube on hand, it's not a big deal. But if you do want to use lube, make sure to only use water-based lube so that the silicone head won't be damaged.
The Bottom Line
Despite being one of the cheapest Womanizer toys, the Starlet 2 packs powerful stimulation that will get you off in minutes. Though it's not designed for coupled play, it can be used during penetrative sex (if you're okay with having an intense orgasm quickly)! Which in today's world, isn't the worst thing that can happen.